Why do you need a handyman contract
Maintaining your home or apartment seems like a never-ending story. There are many systems – plumbing, electrical, paint, landscaping, HVAC – that from time to time require the skills of a craftsman, contractor, or specialist to fix or otherwise to keep it in shape. When you hire such a person, you will often trust the online reviews, the recommendations of friends, and your instincts to ensure the right person for the job. On the other hand, you can be one of those craftsmen, who is willing to make a business from helping others with their premise's maintenance.
In both case scenarios there is a need of having an agreement about the works that will be provided and the payment that will be received.
Why do you need a handyman contract?
In the ideal world people could rely on gentlemen's agreements and do not need to have a legally binding contract to have business. Unfortunately, in reality many of us have ever gotten burned by relying on verbal agreements. Sometimes other parties misunderstand the terms in the other they purposely disobey their word. This has made contracts a necessity for any kind and size of businesses.
In general, a handyman contract would include items such as the scope of work, cost of the work, payment terms, timeline of work and payment, how the contract can be terminated, and penalties for failed obligations.
Contracts protect both the handyman and the client, making everyone to be on the same page. Therefore, a customer can't decide to terminate a job without paying when the craftsmen have already made financial commitments such as purchasing tools or materials. Alternatively, the client is also assured that the repairs will be completed according to the given specifications or within the scheduled time. Another benefit of having a contract is that it acts as a basis for resolving disputes that may arise.
In what cases do you need a handyman contract?
There are many cases when you wish you should have done a contract beforehand. For example, you are hiring a maid to help you clean your house. You pay her upfront and then find that she hasn't cleaned the windows. She claims that it's the additional work, while you were expecting that this service will be included in the fee you've paid. This is a classic dispute where both parties have their own truth, but with a contract it won't be even a question, because all the terms would be clear and transparent.
Another time, you for example, have some problems with your plumbing system. You call a specialist, and he easily fixes it, but in a week or so you have the very same problem with your pipes. You have paid the handyman to fix the problem, while he is charging you for the visit. Having the contract, you can determine how you will agree to consider the work to be done.
Or you are a handyman who is making his living by providing a fair service, and surely you want to ensure that your job is respectfully prayed on time. The contract allows you to indicate the payment deadline as well as penalties if it is not provided on time.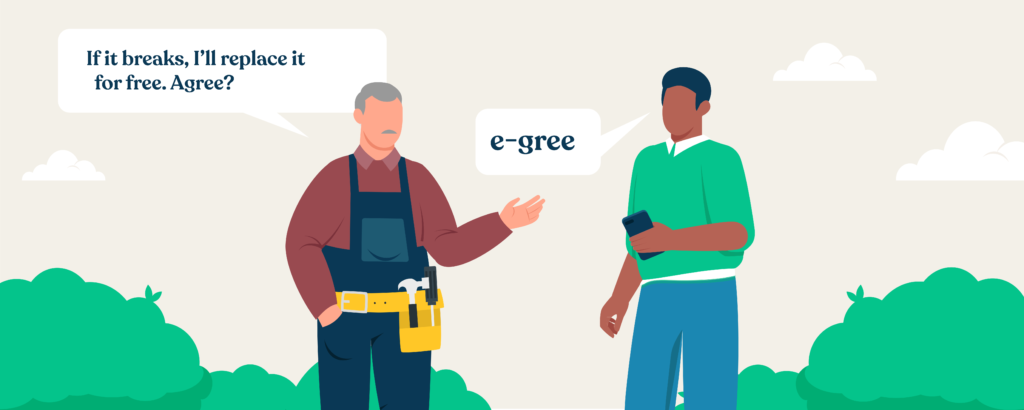 What to include in your handyman contract?
A handyman service agreement should outline the scope of work of the project, additional materials, and service fees. Make sure it highlights the responsibilities of both the customer and the handyman during the project. It is important that this document is simple and easy to understand so that both parties have a clear understanding of the project to prevent complaints later.
Here are the main points to include in the handyman contract:
1. Names and contact information of both customer and handyman
2. Scope of work, and list of materials needed
3. Payment agreement and schedule
4. Other relevant information
How to make handyman contract with E-gree
And now you can trust E-gree and this household services e-greement to ensure your legal rights are protected and that all the parties are on the same page regarding the work to be done and the price to be paid. So, for those jobs where you have selected a contractor, handyman, or laborer-or if you are such specialist- this is the e-greement to use. The system guides you through all the points you should include in the contract, so nothing will be forgotten. And the best part, it takes no more than 5 minutes to make one agreement and you and your client or your handyman can sign it online.