Why it is important to secure your data and how to do it
Having our files securely stored in a cloud seems to have made our lives way easier. But what about when you need to process your information? Do you know that the time you sent your files they are more exposed to danger?
Why do you need to protect your files?
Having most of our personal and business valuable data kept on our devices or file banks, we take its security for granted. Meanwhile, your data is one of your most valuable assets and needs to be protected accordingly. As a freelancer, you probably handle most of your file flow from your smartphone or computer. And you probably share it with different parties: your working partners, other businesses, or any other person you want to share it with. As your file have a value, it is similar to sending your sinned bank checks – someone can cash it out.
Moreover, even if your device is secured by a password, it doesn't mean that the recipient of your files is digitally responsible as well. In other words: after the file was sent, anything could happen to your possession. We don't want that, do we?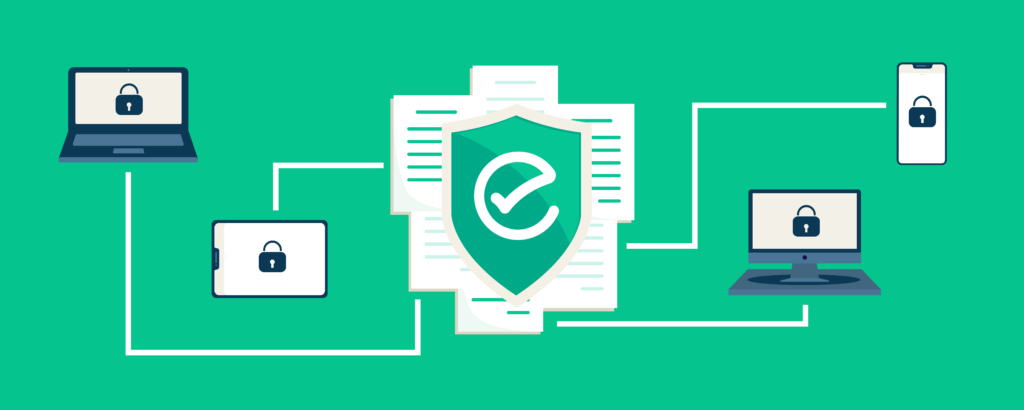 Benefits of documents protection
Prevention of loss
If a confidential or any other important file leak ever occurs, some very unpleasant events can occur to your business, happen to your client and anyone else who's involved. You may face asset loss, damage to your reputation, loss of clients, and as a result increased difficulty in acquiring new clients. Not to mention that in the worst-case scenario, a few lawsuits might even come your way.
Sharing your data securely will significantly decrease the likelihood of a confidential information leak ever happening in the first place.
Investment in your reputation
With privacy being a growing concern, having your and your client's valuable data managed securely is an investment in your reputation. People are more likely to trust you, which gives you a competitive advantage. Your business will certainly stand out if you use a secure file-sharing system in place. This can even become your competitive edge when seeking new clients.
Peace in mind
Having your own business is a very stressful thing itself. Using an unsecured way of sharing your data, you may feel an undying fear of files being leaked. This may cause you additional stress and anxiety, which often isn't something you can afford to endure, as your business requires 100% of your mind presence at all times. Since you already have a lot on your plate, why don't have at least one concern less and focus on the other important objectives of your work? Using the secure way of sharing data, you'll have peace in your mind.
How to secure your documents with e-gree Lock
Let's say, you are photographer and you what to copy one of your pictures for a client at a printing studio. Obviously, you have to send them a file to print. Even though it's a trustful studio you've been working for ages, you don't know about their staff flow or have no guarantee that your file could be given by mistake to another client. Your picture is your asset that brings you income, so if anyone copies it without your permission you are literally losing money.
Sharing a file, photo, or video clip through your smartphone or computer doesn't have to feel like you are sending it into outer space. Surely, making a contract for any single file, sounds like a lifetime of paperwork.
But there is simple and not time-consuming way to protect your data by sending it with e-gree Lock™.
How does it work? It is pretty easy: you send your file using any messenger or an old-fashioned email. The only difference is that upon delivery and before being able to unlock and view the file, the recipient will first have to quickly acknowledge your ownership rights. That means that by sharing your file you still are in charge of that can be done to it.
Also, you can use e-gree Lock™ to prescribe limits to the use of any text, file or photo you share. The procedure is the same.